Ecoline emergency/crash cart with pull out drawers – red
Ideal for emergency (A&E) departments units in hospitals and healthcare facilities. Bright, red colour makes it easy to see. Also suitable for other hospital departments such as hospital wards, operating theatre, day surgery, private clinics and aged care.
Baskets/trays can lift out of drawers for improved organisation, cleaning and stock rotation. Use in conjunction with other Pegasus interchangeable storage systems such as open frame racks or cabinets.
Features:
Material: Steel, powder-coated, top plate and wall bumpers – ABS plastic
Wheels: 4 x 12.5cm wheels with brakes
Locking: Standard central locking enables locking of all drawers within the cart
Colour: Red with white handles
Maximum load: Cart: max. 75 kg, draws: max. 15 kg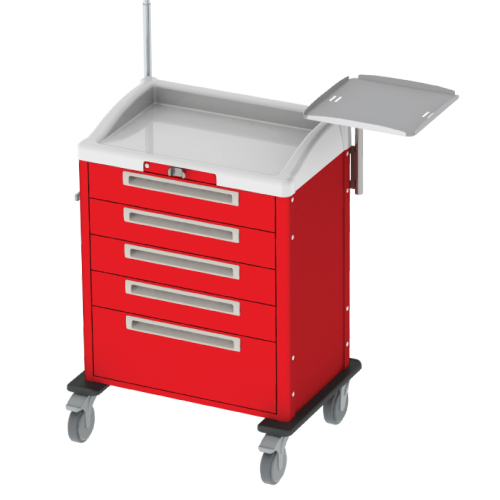 | Product Code | Description | Dimensions (DxWxH) | Standard drawer configuration* |
| --- | --- | --- | --- |
| CRT-M39-EMR1 | Ecoline emergency cart red with white handles | 560 x 770 x 985mm | 4 x 10cm, 1 x 20cm |
| CRT-M35-EMR2 | Ecoline emergency cart red with white handles | 560 x 770 x 870mm | 3 x 10cm, 1 x 20cm |
| CRT-M43-EMR3 | Ecoline emergency cart red with white handles | 560 x 770 x 1100mm | 5 x 10cm, 1 x 20cm |
| CRT-M31-EMR4 | Ecoline emergency cart red with white handles | 560 x 770 x 760mm | 2 x 10cm, 1 x 20cm |