Ecoline procedure/ hospital cart with pull out draws
Ideal for any hospital department, pharmacy, medicine storage, anaesthetics, small consumable storage in hospitals, aged care facilities or other healthcare facilities.
Baskets/trays can lift out of drawers for improved organisation, cleaning and stock rotation. Use in conjunction with other Pegasus interchangeable storage systems such as open frame racks or cabinets.
Features:
Material: Steel, powder-coated, top plate and wall bumpers – ABS plastic
Wheels: 4 x 12.5cm wheels with brakes
Locking: Standard central locking enables locking of all drawers within the cart
Colour: Cream with teal handles (handle colour can be changed)
Maximum load: Cart: max. 75 kg, draws: max. 15 kg
Accessories not included – can be added as required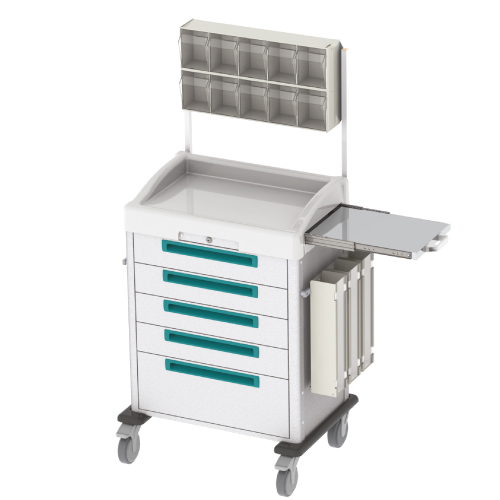 | Product Code | Description | Dimensions (DxWxH) | Standard drawer configuration* |
| --- | --- | --- | --- |
| CRT-M39-PRO1 | Ecoline procedure cart with teal handles | 560 x 770 x 985mm | 4 x 10cm, 1 x 20cm |
| CRT-M43-PRO2 | Ecoline procedure cart with teal handles | 560 x 770 x 1100mm | 5 x 10cm, 1 x 20cm |
| CRT-M35-PRO3 | Ecoline procedure cart with teal handles | 560 x 770 x 870mm | 3 x 10cm, 1 x 20cm |
| CRT-M31-PRO4 | Ecoline procedure cart with teal handles | 560 x 770 x 760mm | 2 x 10cm, 1 x 20cm |