Open frame rack with catheter box holders
Open frame rack  available in E or U styles incorporating retractable catheter holder boxes. Ability to combine a catheter box for each bay and include baskets, trays or shelves on angles or horizontal.
Catheter boxes retract from the bay to securely store and hold expensive catheters. The rack stays secure and won't fall when the catheter box is fully retracted. Allows catheters to be taken and restocked as needed.
Incorporate any number of bays to suit the storage area. Ideal for cath labs in hospitals, theatres, day surgeries.
High density racking system which incorporates frame, plastic rails and interchangeable baskets.
Features:
Can be fitted with trays, baskets or shelves
Material: profiles – 20×20 powder-coated galvanized steel, Plastic rails – lead free PVC
Available with height-adjustable feet or 76mm castors/wheels
Cleaning: Racks can be cleaned with a damp cloth. All standard neutral detergents and disinfectants can be used
Maximum load: Rack section: max. 400 kg, Insert: max. 15 kg
Standard: ISO standard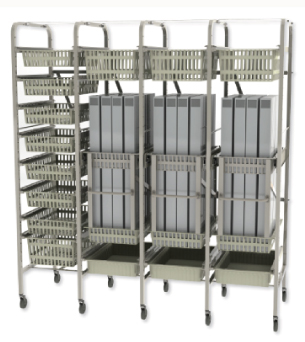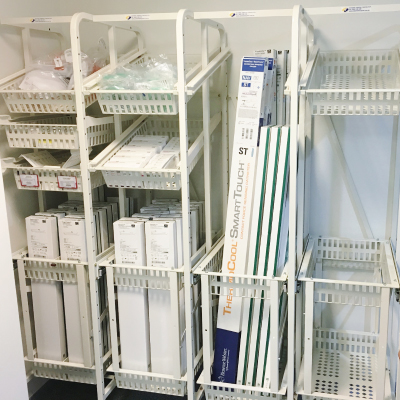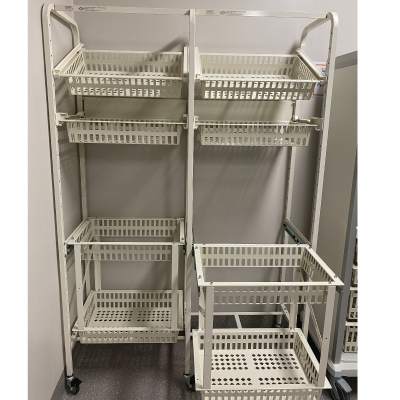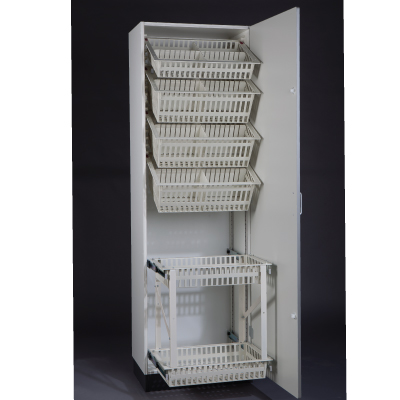 Specification for 4 bays – less bays are available or additional bays can be added to fit storage area
Product Code
Description
Dimensions (DxWxH)
Standard basket configuration*
OFR-U-CATH3-4
Open frame rack – U style, 4 bays with retractable catheter boxes
651 x 1797 x 1988mm
4 x 20cm basket (all horizontal),

11 x 10cm basket (4 angled, 7 horizontal),

3 x retractable catheter boxes (telescopic slides)

OFR-E-CATH3-4
Open frame rack – E style, 4 bays with retractable catheter boxes
451 x 2597 x 1988mm
4 x 20cm basket (all horizontal),

11 x 10cm basket (4 angled, 7 horizontal),

3 x retractable catheter boxes (telescopic slides)

OFR-U-CATH4-4
Open frame rack – U style, 4 bays with retractable catheter boxes
651 x 1797 x 1988mm
4 x 10cm basket (all angled),

4 x 20cm basket (all horizontal)

4 x retractable catheter boxes

OFR-E-CATH4-4
Open frame rack – E style, 4 bays with retractable catheter boxes
451 x 2597 x 1988mm
4 x 10cm basket (all angled),

4 x 20cm basket (all horizontal)

4 x retractable catheter boxes
* Suggested baskets for each unit, this number can be customised to suit storage requirements