Cabinets can incorporate multiple bays side-by-side to increase the width of the available storage. These cabinets can be built to any height or width.
Each cabinet 'bay' is one single cabinet, with the side panels affixing to the wall of the cabinet. Installed with flex or tilt side panels, the units are designed in either E (600mm wide) or U (400mm wide) configurations and additional 'bays' can be added to make it wider.
The cabinets can fit any module (basket, tray, shelves, catheter boxes, catheter hooks). The modules are retractable which have a unique safety-stop function which prevents the module from accidentally falling out when pulled.
The modules can be tilted in two different angles to view and access the stored items. Dividers, label holders and other accessories can be attached to baskets to suit the items being stored and improve organisation.
Ideal for redevelopments or new hospitals where cabinets can be incorporated into the overall design. Can also be incorporated into existing cabinets – we can affix side panels and provide baskets to cabinets that already meet the ISO standard sizing (600x400mm).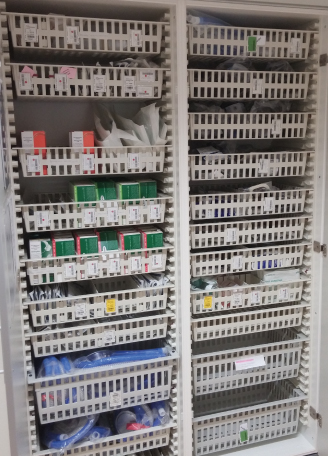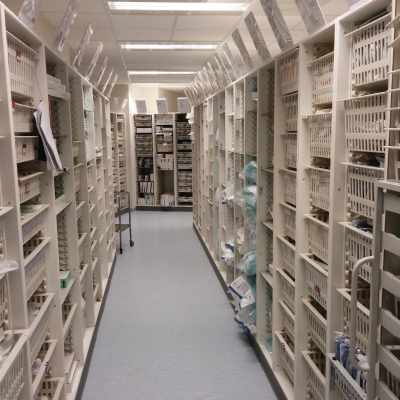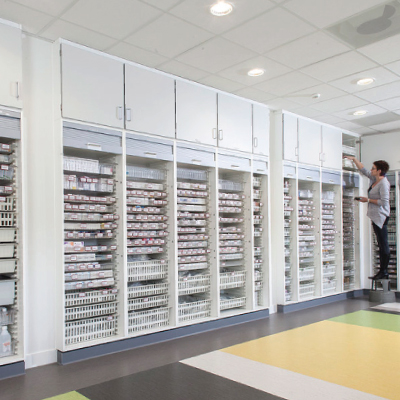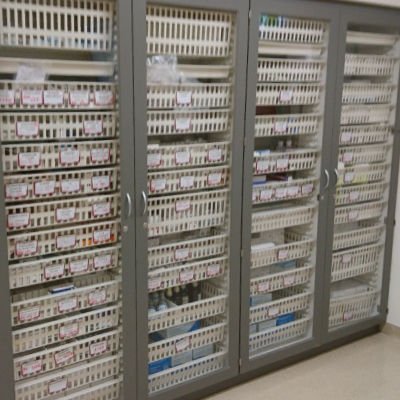 Specification for single cabinet bays – multiple bays can be added to fit storage area
| Product Code | Description | Dimensions | Standard basket configuration* |
| --- | --- | --- | --- |
| CAB-TALL-U-2 | Standard cabinet – U style, 2 bays | 650 x 910 x 2100mm | 12 x 10cm, 2 x 20cm |
| CAB-TALL-E-2 | Standard cabinet – E style, 2 bays | 450 x 1320 x 2100mm | 12 x 10cm, 2 x 20cm |
| CAB-TALL-U-3 | Standard cabinet – U style, 3 bays | 650 x 1380 x 2100mm | 18 x 10cm, 3 x 20cm |
| CAB-TALL-E-3 | Standard cabinet – E style, 3 bays | 450 x 1980 x 2100mm | 18 x 10cm, 3 x 20cm |
| CAB-TALL-U-4 | Standard cabinet – U style, 4 bays | 650 x 1820 x 2100mm | 18 x 10cm, 3 x 20cm |
| CAB-TALL-E-4 | Standard cabinet – E style, 4 bays | 450 x 2640 x 2100mm | 18 x 10cm, 3 x 20cm |
* Suggested baskets for each cabinet, this number can be customised to suit storage requirements. Dimensions are an approx – all units would be custom designed for the area once measured up