Cabinet standard – available in E or U configurations with single or multiple bays usually 2100mm high but can be any height to suit storage area.
Install with open/no door, or hide stock/goods behind rolling tambour doors, hinged solid doors or glass doors.
Ideal for redevelopments or new hospitals where cabinets can be incorporated into the overall design. Can also be incorporated into existing cabinets – we can affix side panels and provide baskets to cabinets that already meet the ISO standard sizing (600x400mm). Multiple bays can be added on for multiple cabinets side-by-side.
Side panels attach to the sides which enable the modules to be placed at various intervals. Modules can be retracted and displayed either angled or horizontal.
Can be used for any hospital department, pharmacy, laboratories, CSSD, theatre storage, medication storage and many other healthcare facilities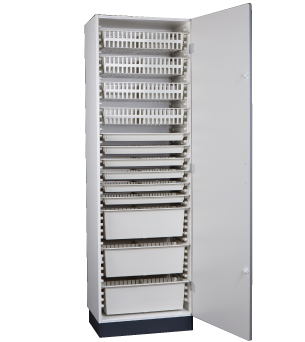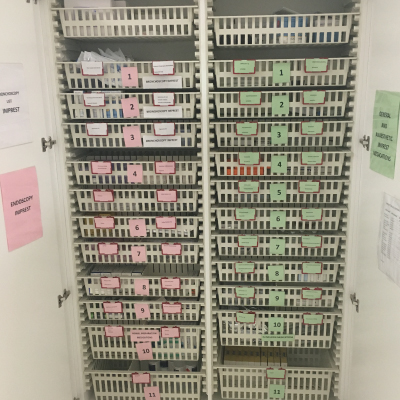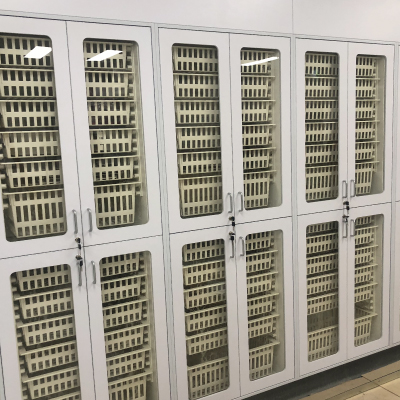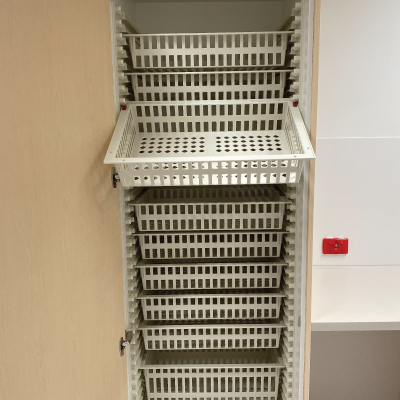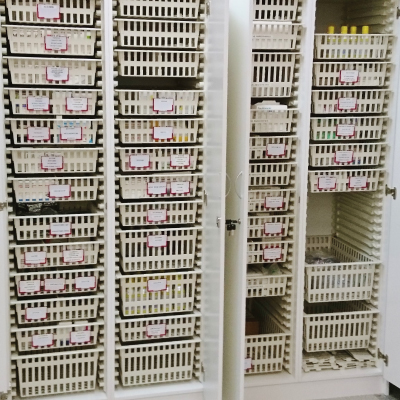 Specification for standard cabinet bays, dimensions adjusted for each site  – multiple bays can be added to fit storage area
| | | | |
| --- | --- | --- | --- |
| Product Code | Style | Dimensions (DxWxH) | Standard basket configuration* |
| CAB-TALL-U-ND | Standard cabinet – U style, no door | 692 x 452 x 2100mm | 6 x 10cm, 1 x 20cm |
| CAB-TALL-U | Standard cabinet – U style, door | 712 x 452 x 2100mm | 6 x 10cm, 1 x 20cm |
| CAB-TALL-E-ND | Standard cabinet – E style, no door | 492 x 652 x 2100mm | 6 x 10cm, 1 x 20cm |
| CAB-TALL-E-2 | Standard cabinet – E style, door | 512 x 652 x 2100mm | 6 x 10cm, 1 x 20cm |
| CAB-TALL-U-2 | Standard cabinet – U style, no door, double bay | 712 x 910 x 2100mm | 12 x 10cm, 2 x 20cm |
| CAB-TALL-E | Standard cabinet – E style, no door double bay | 512 x 1310 x 2100mm | 12 x 10cm, 2 x 20cm |
* Suggested baskets for each bay, this number can be customised to suit storage requirements. Size may vary on carts with tambour doors