Cabinet wall unit, U type – available in E or U configurations with single or multiple bays
Ability to have open/no door, or hide stock/goods behind rolling tambour doors, hinged solid doors or glass doors.
Ideal for areas where space is limited. Installing wall units allow small and light items, consumables, sutures to be stored at height. Retractable system allows modules to be tilted to view the items stored.
Side panels attach to the sides which enable the modules to be placed at various intervals. Modules can be retracted on an angled or horizontal position.
Can be used for treatment rooms, ICU, pharmacy, laboratories, any hospital departments, catheter laboratories, operating theatre, CSSDs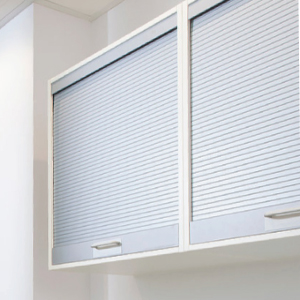 Specification for single cabinet bays – multiple bays can be added to fit storage area
| | | | |
| --- | --- | --- | --- |
| Product Code | Style | Dimensions (DxWxH) | Standard basket configuration* |
| CAB-WALL-U-ND | Wall cabinet – U style, no door | 690 x 450 x 610mm | 1 x 5cm, 4 x 10cm, 1 x 20cm |
| CAB-WALL-U | Wall cabinet – U style, door | 710 x 450 x 610mm | 1 x 5cm, 4 x 10cm, 1 x 20cm |
| CAB-WALL-E-ND | Wall cabinet – E style, no door | 490 x 650 x 610mm | 1 x 5cm, 4 x 10cm, 1 x 20cm |
| CAB-WALL-E | Wall cabinet – E style, door | 510 x 650 x 610mm | 1 x 5cm, 4 x 10cm, 1 x 20cm |
Dimensions are an approx – all units would be custom designed for the area once measured up