Handles for baskets/trays
Handles to attach to any basket or tray. Incorporate with coloured strips to improve visibility, increase nursing satisfaction and improve patient care.
Clinical trials show that nurses spend up to 20% or more of their time searching for supplies. This is time that could be spent on patient care.
Handles come standard as plain, where label holders can be attached. Coloured strips can be incorporated with handles to colour code different departments,
goods, certain stock lines or improve organisation. Available in red, yellow, green, blue and other colours as requested.
Easy to clip on basket and use as a pull handle once installed. Include with flexible labeling solutions to match clinician workflow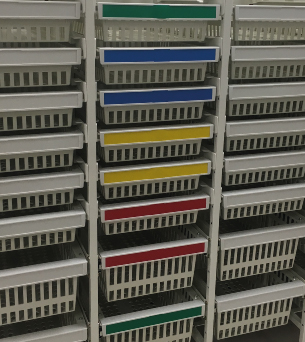 | Product Code | Description |
| --- | --- |
| LBL-HDL-E-B | Handle for use with E type basket/tray – 600mm wide – beige |
| LBL-HDL-U-B | Handle for use with U type basket/tray – 400mm wide – beige |
| LBL-HDL-U-BP | Blue coloured strip for U type handle |
| LBL-HDL-U-GP | Green coloured strip for U type handle |
| LBL-HDL-U-RP | Red coloured strip for U type handle |
| LBL-HDL-U-YP | Yellow coloured strip for U type handle |
| LBL-HDL-E-BP | Blue coloured strip for E type handle |
| LBL-HDL-E-GP | Green coloured strip for E type handle |
| LBL-HDL-E-RP | Red coloured strip for E type handle |
| LBL-HDL-E-YP | Yellow coloured strip for E type handle |