Hospital & Healthcare Storage Solutions
Typical hospital supply rooms are a confusing sea of odd-shaped plastic bins, old style shelving units and trolleys that were not designed for functionality. As the demands on hospitals has increased over time, so too has the requirement for the level of stock to be stored. It is essential that hospital re-evaluate their storage requirements and allow an assessment of the most functional and best use of storage space for their areas.
NSC provides storage solutions that incorporate a range of shelving designs that will maximise the use of space, eliminate waste, lower personnel labour costs, improve organisation and stock rotation.
How the Pegasus high density storage system works
The entire high density modular storage system is based around the uniquely designed side panels, plastic rails and interchangeable baskets, trays and shelves (modules).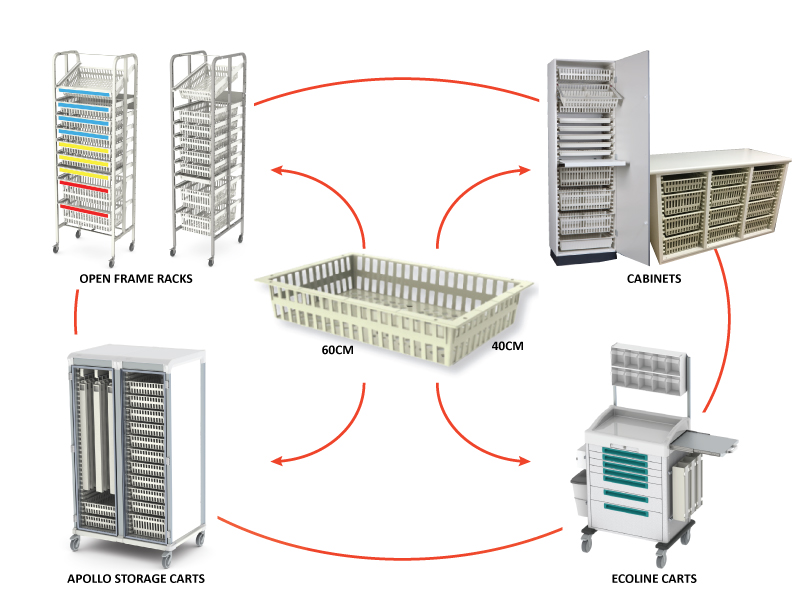 The high density modular storage systems range incorporates:
Which all incorporate the interchangeable module racking system. The entire system is based on the ISO standard 60×40 and the modules (baskets and trays) have been designed on this basis.
The units are designed in either E (600mm wide) or U (400mm wide) configurations and additional 'bays' can be added to make it wider and increase storage capacity. All modules are designed to fit in either an E or U style systems and are available in 5cm, 10cm or 20cm heights.
The Tilt or Flex side panels attach to the wall of the cabinet or Apollo cart and allows the modules to be placed at various levels both horizontally and angled to improve organisation and stock rotation. The modules are a retractable system which have a unique safety-stop function which prevents the module from accidentally falling out when pulled.
Our most popular style of high density system is the open frame rack. This system is achieves the highest level of storage capacity per square foot – up to 60% additional storage capacity as compared to wire shelving. It features a high quality, sturdy frame with support rails which allow the modules to be inserted either horizontally or angled. This allows the entire system to be customised to the storage requirements and the amount of baskets, style of insertion and number of bays installed can be designed to fit perfectly in the storage area.
Clinical Management Solutions
Our Pegasus high density storage solutions range assists hospital personnel in improving their organisation, order efficiency and stock rotation. We assist in minimising the amount of stock you need, reducing costs and increasing your storage capacity.
The EZ Swipe RFID and KanBan (2-Bin) system is a lean supply strategy which can reduce your hospital personnel and materials management time while rationalising and rotating inventory. The Pegasus Inventory Management System (P.I.M.S) completes the package
Storage for hospital redevelopments and upgrades
NSC has worked with multiple hospitals and other healthcare facilities around Australia to design shelving and storage solutions for various departments, store rooms, CSSD, operating theatres, anaesthetics, pharmacies and other areas