CODE: LOCKS-CART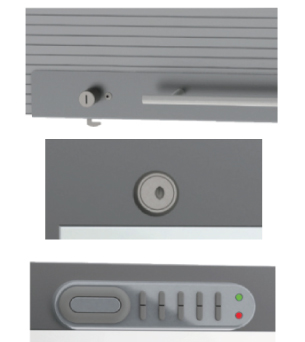 Aluflex cart locks
All Aluflex carts with doors can be fitted with a lock. Rolling doors can be secured at the bottom by a key-operated lock or mechanical code lock. For
glass and hinged doors, you can choose between a key-operated lock or an electronic combination lock. Both are mounted on the upper frame of the doors.
Other lock options include:
Mechanical code lock for AluFlex Carts with rolling doors – seal lock mechanism which can be used with various standard seals
Electronic combination lock with four-digit user code for glass and hinged solid doors
Ecoline cart locks
 The Ecoline cart can be fitted with either an electronic combination lock or a breakaway/seal lock.
The electronic combination lock has a four-digit user code which can be reset via master code. Has a battery life of approx. 15,000 openings, with
an LED light to indicates low battery level. Batteries can be replaced.
The breakaway/ seal lock can be fitted to any Ecoline cart to secure contents inside
| Product Code | Description |
| --- | --- |
| BRO-LOCK | Breakaway/seal lock for Ecoline cart |
| CRTA-ELCK | Electronic combination lock for Aluflex cart with glass and HPL doors |
| CRTA-MK39/43ELKIT | Electronic combination lock for Ecoline cart |
| LOCK-ALUD | Key lock for Aluflex cart with glass and HPL doors |
| LOCK-TD | Key lock for Aluflex cart with rolling tambour doors |
| CRTA-MKMCOLOCK | Mechanical code lock for Aluflex cart |