Open frame rack with catheter hooks
Open frame catheter rack -available in E or U styles incorporating retractable catheter holders with hooks.
The Pegasus catheter storage racks are open frame racks which incorporate retractable catheter holders and shelves. The U style can include up to 3 retractable holders (allows a total of 27 hooks) per bay and the E style can hold up to 5 retractable catheter holders per bay (total of 30 hooks).
What makes this ideal is that the open frame racks can also incorporate angled or horizontal baskets below or above the catheter hooks or multiple bays can be added on with any combination of baskets, trays and catheter hooks or catheter boxes.
High density racking system which incorporates frame, plastic rails and interchangeable baskets. Our most popular system across Australia. Ability to add
on multiple bays to fit storage area. Ideal for catheter lab, operating theatre storage, small consumable storage in hospitals, day surgeries or other
healthcare facilities.
Features:
Can be fitted with a combination of catheter hooks, catheter boxes, trays, baskets or shelves
Material: profiles – 20×20 powder-coated galvanized steel, Plastic rails – lead free PVC
Available with height-adjustable feet or 76mm castors/wheels
Cleaning: Racks can be cleaned with a damp cloth. All standard neutral detergents and disinfectants can be used
Maximum load: Rack section: max. 400 kg, Insert: max. 15 kg
Standard: ISO standard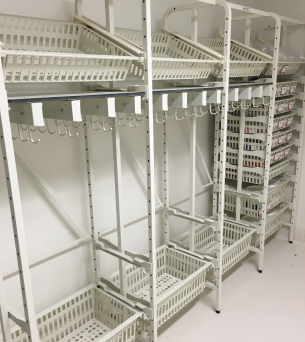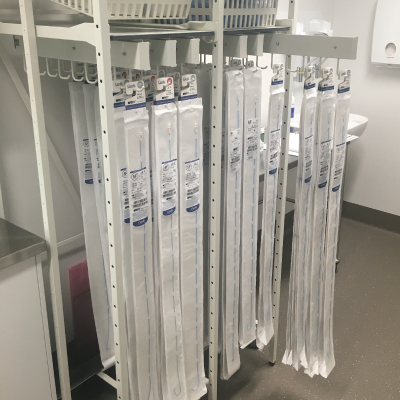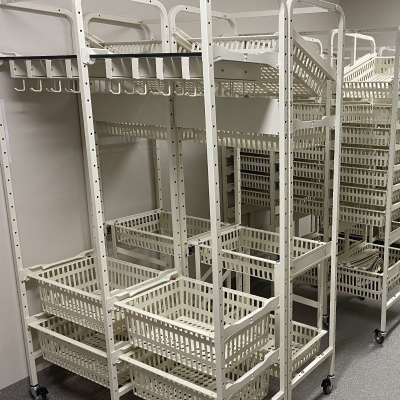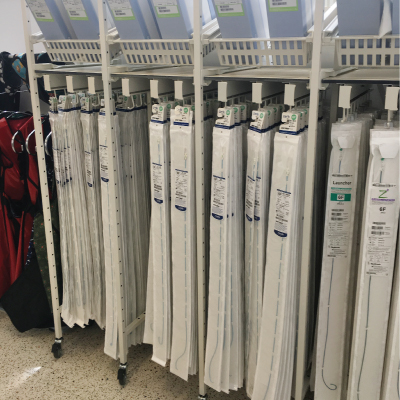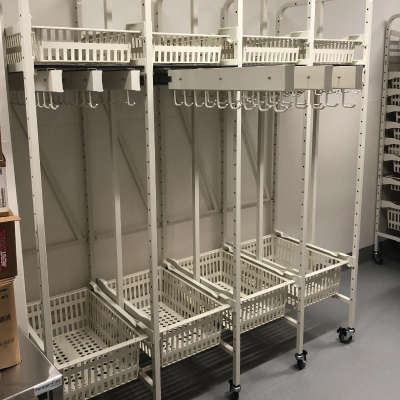 Specification for 3 & 4 bays – less bays are available or additional bays can be added to fit storage area
Product Code
Description
Dimensions (DxWxH)
Standard basket configuration*
OFR-U-CATH-HK3-3
Open frame rack – U style, 3 bays with retractable catheter hooks
651 x 1354 x 1988mm
3 x 20cm basket (horizontal at bottom),

3 x 10cm basket (angled at top),

3 x catheter shelves with 12 retractable catheter hooks

OFR-E-CATH-HK3-3
Open frame rack – E style, 3 bays with retractable catheter hooks
451 x 1954 x 1988mm
3 x 20cm basket (horizontal at bottom),

3 x 10cm basket (angled at top),

3 x catheter shelves with 15 retractable catheter hooks

OFR-U-CATH-HK4-4
Open frame rack – U style, 4 bays with retractable catheter hooks
651 x 1797 x 1988mm
4 x 20cm basket (horizontal at bottom),

4 x 10cm basket (angled at top),

4 x catheter shelves with 16 retractable catheter hooks

OFR-E-CATH-HK4-4
Open frame rack – E style, 4 bays with retractable catheter hooks
451 x 2597 x 1988mm
4 x 20cm basket (horizontal at bottom),

4 x 10cm basket (angled at top),

4 x catheter shelves with 20 retractable catheter hooks
* Suggested baskets for each rack, this number can be customised to suit storage requirements