Cabinet underbench with castors
Cabinet that fits underbench but has incorporated castors for easy manoeuvrability when required. Can be designed in either E or U configurations. Ideally just with a single bay, which makes it easier and smoother for moving.
Modules can be pulled out and placed on bench for restocking or can be pulled out to view stored items. Side panels attach to the sides which enable the modules to be placed at various intervals. Modules can be displayed and retracted either angled or horizontal (horizontal is preferred for underbench cabinets for increased storage capacity and viewing stock).
Ideal for installation in treatment rooms, reception areas, emergency departments, pharmacy, laboratories, and any other hospital departments
Pictured with coloured handles, which can be incorporated or is available without any handles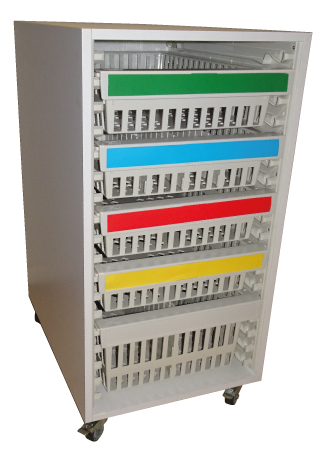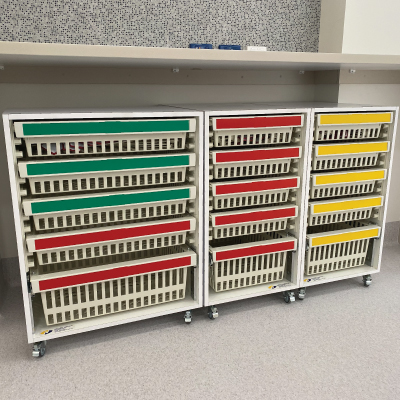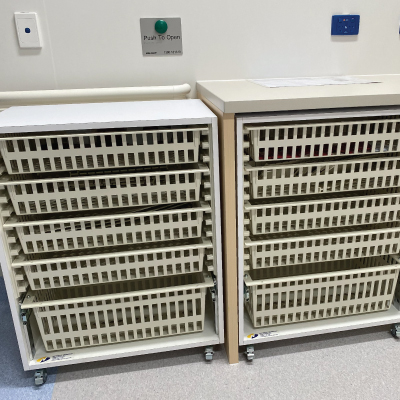 | Product Code | Description | Dimensions | Standard basket configuration* |
| --- | --- | --- | --- |
| CAB-UBENCH-CASTOR-U-870 | Underbench storage cabinet – U type on 50mm castors | 620 x 452 x 622 x 870mm | 4 x 10cm basket, 1 x 20cm basket |
| CAB-UBENCH-CASTOR-U-950 | Underbench storage cabinet – U type on 50mm castors | 620 x 452 x 950mm | 5 x 10cm basket, 1 x 20cm basket |
| CAB-UBENCH-CASTOR-U-1100 | Underbench storage cabinet – U type on 50mm castors | 620 x 452 x 1100mm | 6 x 10cm basket, 1 x 20cm basket |
| CAB-EBENCH-CASTOR-E-870 | Underbench storage cabinet – E type on 50mm castors | 420 x 652 x 870mm | 4 x 10cm basket, 1 x 20cm basket |
| CAB-EBENCH-CASTOR-E-950 | Underbench storage cabinet – E type on 50mm castors | 420 x 652 x 950mm | 5 x 10cm basket, 1 x 20cm basket |
| CAB-EBENCH-CASTOR-E-1100 | Underbench storage cabinet – E type on 50mm castors | 420 x 652 x 1100mm | 6 x 10cm basket, 1 x 20cm basket |
* Suggested baskets for each unit, this number can be customised to suit storage requirements. Other heights also available to suit storage area