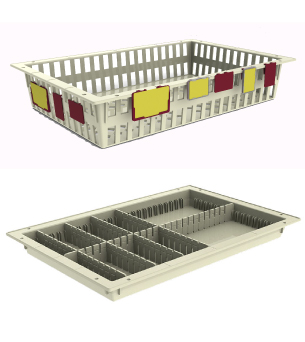 Improve organisation and layout of your high density storage solution with multiple accessories
Incorporate a range of accessories on your Pegasus high density modular storage systems including label holders, dividers, telescopic slides or catheter boxes/hooks on any high density storage unit (open frame racks, cabinets, carts). Accessories improve the organisation and aesthetics of stored items.
Label holders can be affixed in various ways on the module (tray/basket): on the rim of the module, on the front wall of the basket, or on the dividers.
They can also be attached to cabinet walls, doors or on an aluminium label holder. Label holders can be easily moved and can incorporate a label cover
if printed labels are used. Alternatively, paper labels or adhesive labels on plastic cards can be inserted into plastic clip holders. Labels
can be used for stock rotation and ordering processes such as the KANBAN system.
Telescopic slides allow bulk loading of modules – max. load-bearing capacity: 40kg. They are ideal for storing heavier items, e.g. infusion bottles,
fluids. They can be used on high density storage cabinets, open frame racks and Aluflex carts and easily click into place without tools, position
can be changed at any time.
Accessories RANGE