Basket for high density storage systems
Modular basket for high density storage systems – 60 x 40cm ISO standard. Basket available in 10cm or 20cm heights in either ABS cream or PC transparent.
Can be used in combination with side panels, telescopic slides, plastic rails on open frame racking systems, AluFlex carts, Ecoline carts and cabinets.
Features:
ISO standard
Material: ABS / Polycarbonate
Colour: Cream or transparent
Cleaning: Machine-washable with PH-neutral and slightly alkaline detergents and disinfectants
Heat resistance: Max. continuous 70C, Max. short term 90C
Maximum load: 40 kg
Use in conjunction with dividers, basket stops, T-clips and divider locks to customise basket to suit stored items
Stainless steel wire basket
These stainless steel wire baskets are part of our No-Touch system range. They include built-in handles… To maintain sterility!  The stainless steel baskets can be placed directly into the autoclave, over-handling and possible tears that result in contamination during sterilisation or transport is a thing of the past. With NoTouch, the basket is handled, not the pack… until it is needed in the operating theatre.
These stainless steel baskets are available in 60x40cm to meet ISO standards like the ABS baskets and have 10cm or 20cm heights.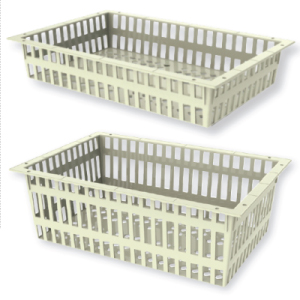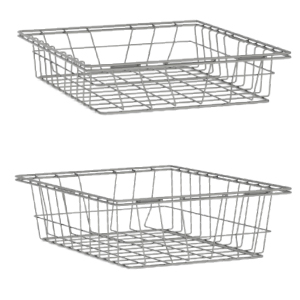 | Product Code | Description | Dimensions (DxWxH) |
| --- | --- | --- |
| B104060 | Basket – ABS, Cream | 60 x 40 x 10cm (standard) |
| B204060 | Basket – ABS, Cream | 60 x 40 x 20cm (standard) |
| B103040 | Basket – ABS, Cream | 30 x 40 x 10cm (half size) |
| B104060PC | Basket – PC, Transparent | 60 x 40 x 10cm (standard) |
| B204060PC | Basket – PC, Transparent | 60 x 40 x 20cm (standard) |
| WS-B104060-SS-WH | Basket – Stainless steel wire double threaded with handle | 60 x 40 x 10cm |
| WS-B204060-SS | Basket – Stainless steel wire double threaded with handle | 60 x 40 x 20cm |
| L4060 | Lid (for use with basket) | 60 x 40 x 1.5cm |