No Touch Pegasus Sterilisation Process

Contamination and tears are a thing of the past with No-Touch.... from the CSSD to the OT with virtually no human interaction
The No-Touch system eliminates human interaction during instrument reprocessing thanks to our dedicated ISO Standard Stainless Steel shelves and baskets and the Pegasus open frame racks and storage carts.
The stainless steel shelves and baskets that can be placed directly into the autoclave, over-handling and possible tears that result in contamination during sterilisation or transport is a thing of the past. With NoTouch, the shelf is handled, not the pack… until it is needed in the theatre.
Features:
The system shelves and baskets are built with handles so that there is zero handling of blue wrapped packs, maintaining 100% sterility during transport from the Sterile Processing Dept
Stainless steel construction is designed to resist contamination
High density, flexible storage allows for greater capacity without stacking, protecting wrapped packs from tearing
Why use PEGASUS High Density Modular Storage?
Maximise storage capacity and organisation
Reduce overall inventories through stock rotation
Improve the aesthetics of your storage area
Fully customise the area to suit your needs
Reduce potential OH&S risks to hospital personnel
Ability to move modules to various levels
High density modular storage systems are ideal for:
Any hospital department or healthcare facility
Operating theatre/ OT
CSSD, sterilisation dept, sterile store room
Pharmacy or pharmaceutical manufacturer
Anaesthetics store rooms
Medications store rooms
Suture trolleys or carts
Emergency department, ICU, HDU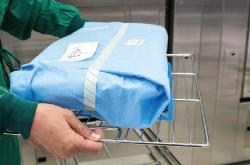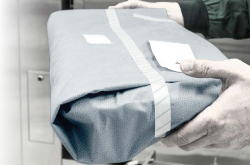 The No-Touch process is simple and effective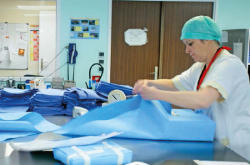 STEP 1
Clean instrument wrapping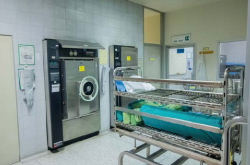 STEP 2
Wrapped instruments are placed on No-Touch
shelf and into steriliser (shelf is handled, pack is not touched)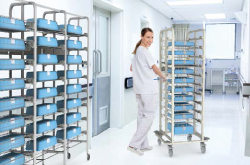 STEP 3
No-Touch shelf (w/sterile pack) is transported to Sterile Storage (shelf is handled, pack is not touched)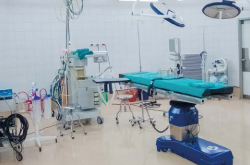 STEP 4
No-Touch shelf (w/sterile pack) is transported to OT to be opened by Nurse
Use with the following Pegasus mobile or static storage systems